By Stefanie Chambers & Betsy Kalin
This post focuses on the Somali American experience in the Twin Cities of Minneapolis and St. Paul, Minnesota. We are currently in the process of making a documentary film about this important community. Interestingly, the film is the result of a collaboration between a professor (Chambers) who wrote a university press book about Somali Americans, and a social impact documentary filmmaker (Kalin) who saw the potential in a joint venture. Their project includes a prestigious group of Somali American consultants who play a vital role in the vision of the film. This partnership has generated considerable interest in academic circles, particularly those who wish to bring their scholarship to a broader audience through film. In this blog, we discuss the roots of our partnership, the reasons Somali Americans made a home in the Twin Cities, and the goals of the film. Images taken during a December shoot by photographer Chris Chew, provide a sense of the film.
The Emergence of a Documentary Film Partnership
We first met in Minneapolis in 2017 at the Urban Affairs Association's annual meeting. Chambers presented the findings from her book Somalis in the Twin Cities & Columbus: Immigrant Incorporation in New Destinations, and Kalin screened her award-winning documentary film East LA Interchange. After attending each other's respective presentations, we realized our combined expertise and interests had the potential to help a broader audience understand the unique history and experience of Somali Americans in the Twin Cities, the region with the largest Somali population in the country. Chambers was excited by the idea of bringing aspects of her findings about Somali incorporation to the medium of film. For Kalin, a filmmaker with a deep commitment to social impact documentary film and dedication to collaboration with her film participants, Chambers's book's policy recommendations, accessible language, insightful portraits of her subjects, and longstanding connections in Minnesota's Somali community contributed to her interest in joining forces. Chambers has relationships with the film's participants, dating back to 2012, that have resulted in mutual trust and unprecedented access to this insular community. As an African American scholar, Chambers was drawn to exploring the African immigrant and Islamic community and broadening the scope of her research from her own personal experience. Thus, a partnership emerged between an Emmy-nominated filmmaker and an academic around a shared interest in the Somali-American experience in the Twin Cities.
Since meeting in 2017, we have spent the last few years envisioning, fundraising for, and filming Dreaming in Somali. We have assembled an esteemed advisory board comprised of four Somali American community leaders in the Twin Cities as well as five scholars of History, American Studies, Ethnic Studies, Political Science, and Urban and Regional Planning. Dreaming in Somali is an 80-minute documentary filmed over an eighteen-month time period. Vérité footage follows our participants and their arcs as a police officer, a union leader, an organizer, and a poet. The four participants in the film help viewers understand the challenges facing Somalis in Minnesota while also shedding light on the complex issues Somali Americans face as they integrate into the US. How does each person reconcile their cultural heritage and dedication to Islam with the obstacles they face from a dominant society that often misunderstands them and their beliefs? Their intersectional identities as Black, immigrant, and Muslim provide the viewer with a broader lens through which to understand their unique experience as new Americans.
Although inspired by Chambers' book, the film takes a different approach by focusing on a number of humanities themes. The book itself investigates the political, economic, and social incorporation of Somalis in the two areas of the United States with the largest Somali populations. The concept of incorporation is based on the idea of integration, but simultaneously emphasizes the need to honor and maintain the cultural traditions of newcomers. In recent years, policymakers from cities across the US and countries such as Sweden and Canada have visited the Twin Cities to learn firsthand about the praise the region regularly receives regarding Somali incorporation. At the same time, the murder of George Floyd in the 5th Congressional District, an area with a large Somali community and represented by Congressperson Ilhan Omar, brought to light the persistent discrimination faced by African Americans in Minnesota. This tumultuous event raised awareness of the political, economic, and social challenges experienced by Black Minnesotans. However, the Somali experience in Minnesota is also shaped by living in a country where Islamophobia and anti-immigrant sentiments exacerbate racism. Our film investigates the Somali American experience with these issues at center stage. Dreaming in Somali helps foster a greater understanding of the Somali American experience in today's global sociopolitical climate of anti-immigrant and anti-Muslim prejudice.
Somali Migration to Minnesota
Each of the individuals in our film traveled to refugee camps in Kenya and were later assigned to new refugee resettlement locations in the United States by the United Nations High Commissioner for Refugees (UNHCR). For those assigned to the United States, the State Department coordinates with UNHCR to connect refugees with the Office of Refugee Resettlement (ORR) within the US Department of Health and Human Services. From there, ORR works with voluntary agencies like Jewish Family Service, Lutheran Social Services, Catholic Charities USA, or Arrive Ministries to resettle refugees. Voluntary agencies have played an important role in immigrant resettlement since the late 1800s.
Somalis in our film are characterized as immigrants as opposed to refugees, because most made the courageous decision to become US residents and American citizens. For many, their love for their country of origin made this decision difficult. Even among those Somali-Americans firmly rooted in the United States, there is a contingent in the Twin Cities who return to areas in Somalia to pursue humanitarian work or visit family.
Following the lives of our participants affords us a unique perspective to see how Minnesota's welcoming approach to refugee resettlement helps explain Somali success in the state. Minnesota's history with refugee resettlement was an important precursor to the arrival of Somalis. The state's refugee relocation tradition started after the federal Displaced Persons Act of 1948. Since the end of World War II, Minnesota has accepted large numbers of refugees. The state was among the first to accept Jewish refugees from Europe in 1948, in the aftermath of the Holocaust. In the early 1970s, Minnesota began to accept large numbers of non-European immigrants when many Southeast Asians belonging to the Hmong ethnic group, which comprises Asian ethnic groups from China, Vietnam, Laos, Myanmar and Thailand, began to find refuge in St. Paul. The Hmong population explosion after the end of the Vietnam War occurred thanks to government, nonprofit, and religious outreach to struggling Hmong groups in Asia. Secondary migration of Hmong from other regions, such as Fresno, California, to the Twin Cities has made the area home to one of the largest Hmong communities in the nation. By 2000, the Hmong population had reached 42,863, a 225 percent jump since 1990.
When Somali refugees first started to migrate to the United States, the majority settled in Minnesota and Virginia. By the early 1990s, cities commonly associated with the relocation of Somalis included Minneapolis, Minnesota; Norfolk, Virginia; San Diego, California; and Seattle, Washington. The Twin Cities' particularly positive track record with Hmong refugee resettlement helped attract Somalis from other cities where they found the cost of living high and had trouble finding jobs. The process of secondary migration has been, and remains, very common among Somalis with their strong communication network that spreads news of better opportunities. What is easy to overlook are the costs associated with leaving their initial placement cities. Beyond the fact that moving can be expensive, federal benefits do not follow refugees if they leave their assigned homes in the United States. In other words, for poor refugees, such as Somalis, mobility within the United States comes at a considerable price.
In Minnesota, as in other parts of the nation, refugees receive federal, state, and local support for a period of time to help with their economic and social transition, but Minnesota is an outlier in terms of the generosity of its social service benefits: twenty-eight percent of state revenues go to social welfare programs. Minnesota's abundant social service benefits, strong public school and university systems, employment options, and reasonable cost of living gave Somalis who settled in the state a distinct advantage. The availability of jobs in meat-processing plants has been a major draw for immigrants, similar to trends in other states such as Iowa, Nebraska, South Dakota, and the Carolinas. The Twin Cities also boasts a large number of nonprofits, homeless shelters, and food banks. As a result, Somalis and other East Africans, including Ethiopians and Kenyans, began arriving in increasing numbers in the 1990s. After the Hmong population, East Africans make up the largest foreign-born population.
Previous scholarly literature assumed that after an initial period of transition, new immigrant groups would eventually surmount the barriers to political, economic, and social integration—the classic narrative of twentieth-century European immigration to the United States. While our participants share some characteristics in common with this narrative, there are differences that have complicated Somalis' process of integration. In contrast to the European experience, Somalis came to the United States primarily as part of the fallout from a civil war. Some Somalis have limited English-language skills, and English language mastery continues to be the traditional marker for assimilation. Furthermore, misconceptions about Somalis' religious and cultural beliefs have created an additional hurdle for their full inclusion in society.[1]
Social Impact Documentary
Kalin strongly believes in the power of storytelling to inspire dialogues, challenge perceptions, and educate a wide audience around issues of human rights and social, economic, and environmental justice. It is not enough to have audiences simply watch a film; what's important is the actions they take after watching. We have seen from the #BlackLivesMatter, #MeToo, and Parkland student movements that change is possible when people raise their voices and rally together for social justice. This is the essence of social impact documentary which combines dramatic storytelling with outreach, engagement, and impact goals for political activism and social change.
Since actionable goals for storytelling are essential for us, we are creating a multiplatform strategic impact campaign designed to engage youth and mobilize advocates around the issues addressed in Dreaming in Somali. We are presently negotiating partnerships with non-profit organizations working with Somalis and at-risk youth, refugee, and immigrant populations. Our impact campaign will also point to ways those interested in supporting Somalis as well as other immigrant populations can help these communities prosper.
One of our target audiences for Dreaming in Somali is Americans across the country who may not know any new Americans and may be influenced by media stereotypes about Somalis, Muslims, immigrants, and refugees. With its intimate access to our participants and its sensitive approach to controversial topics, the film will help transcend the concept of 'the other' and create compassion for our participants and their experiences. We also want to reach people in the Somali diaspora as well as Americans currently living in communities with Somali populations such as Columbus, Ohio; Lewiston, Maine; Kansas City, Kansas; San Diego, California; Seattle, Washington; and Portland, Oregon. Other target audiences are business and spiritual leaders, teachers, politicians, and activists able to influence policy and promote grassroots change. We feel that Dreaming in Somali will be of particular interest to policymakers across the US (and abroad) who want to understand the ways the Twin Cities have opened doors for Somalis and other refugees. We are reaching out to public libraries, museums, police departments, labor organizations, religious institutions, and school districts to encourage dialogues among diverse audiences. Additionally, we are already planning for educational distribution and community screenings with educational materials such as planning, discussion, and study guides. By documenting the successes and challenges faced by Somali Americans in the Twin Cities, the film creates a unique opportunity for outsiders to see how Somalis themselves have worked to establish productive lives in a new home. At the same time, the film sheds light on the tension experienced by so many immigrant communities that attempt to retain cultural roots while integrating into new environments.
Forging Academic-Filmmaker Partnerships
Like many academics, once Chambers completed her book she struggled to find ways to share her findings with a non-academic audience. She participated in book talks, wrote opinion pieces, joined social media groups, and affiliated herself with academic groups attempting to promote scholarship in the media. However, these endeavors did not significantly broaden the reach of her work. Chambers is excited by the potential of using film to amplify her scholarship and reach a new, diverse audience of over two million people.
For any academic interested in bringing their scholarship to film, we have a few suggestions. First, scholars need to be receptive to a filmmaker's suggestions about what material will resonate with an audience. Chambers's book, while important to the social science literature, would not translate directly into a dramatic film. However, Kalin was inspired by Chambers's use of her subjects' personal stories in each chapter of Somalis in the Twin Cities & Columbus, which is similar to POV film storytelling, and influenced our filmmaking approach to follow several Somali Americans in their daily lives. In addition, we decided to explore humanities themes such as the history of Somali migration, questions of identity, and the significance of Somali poetry that extended beyond the scope of Chambers's book.
For example, Somalia is renowned as a nation of poets for Somalis' prowess with oral poetry. Somali poetry provides a rich resource for shedding light on the experience of those in the diaspora. The strong tradition of oral poetry in Somalia can be traced back to the eighteenth century while written poetry only appeared after the country established a written language in 1972. One of the ways Somali youth develop their Somali American identities is through spoken-word poetry. Somali poets like our participant Ifrah Mansour perform classical, contemporary spoken-word, and hip-hop poetry. The poetic sequences, with their vivid imagery and sheer beauty, are an accessible way to create empathy in the viewer as well as to help them understand more about Somali culture and history.
The second most important experience for Chambers was to understand the difference between traditional academic grants and film grants. The latter take as much time, but result in far fewer victories. The feedback on our proposals is outstanding, yet securing them remains difficult because the competition is fierce; there are so many talented documentary filmmakers and far fewer grants. In this regard, remaining positive and pursuing multiple forms of funding simultaneously is important.
Building on the previous suggestions, mutual respect and patience are also key aspects for academic-filmmaker partnerships. Given that most documentary films can take years to make, the elements of a good working relationship and friendship are key to a successful partnership. Finding a filmmaker who respects academic research and an academic who recognizes the training and expertise in filmmaking fosters mutual respect. Both Chambers and Kalin are very grateful for their collaboration.
Our collaboration has resulted in many benefits, both personally and professionally. Working together has opened our eyes to the possibilities of incorporating each other's disciplines into our respective academic and artistic fields. Kalin is now an adjunct professor teaching Social Impact Documentary at Saybrook University and Emerson College Los Angeles while Chambers stresses documentary film in her pedagogical approach and has become a member of the Center for Independent Documentary, an organization that advocates for amplifying the stories of groups and individuals who are often overlooked by mainstream media.
Dreaming in Somali is moving ahead despite the COVID-19 pandemic. While our plans to film this summer have been postponed, we are still developing the project and scheduling our production phase. In fact, COVID and issues surrounding policing policies in Minnesota have forced us to think very carefully about how to incorporate the current political climate in our film. In this sense, our Somali participants and advisors are key to the evolving vision and scope of the film. To find out more about the documentary or to make a contribution to the project, please visit Dreaming in Somali's website.
---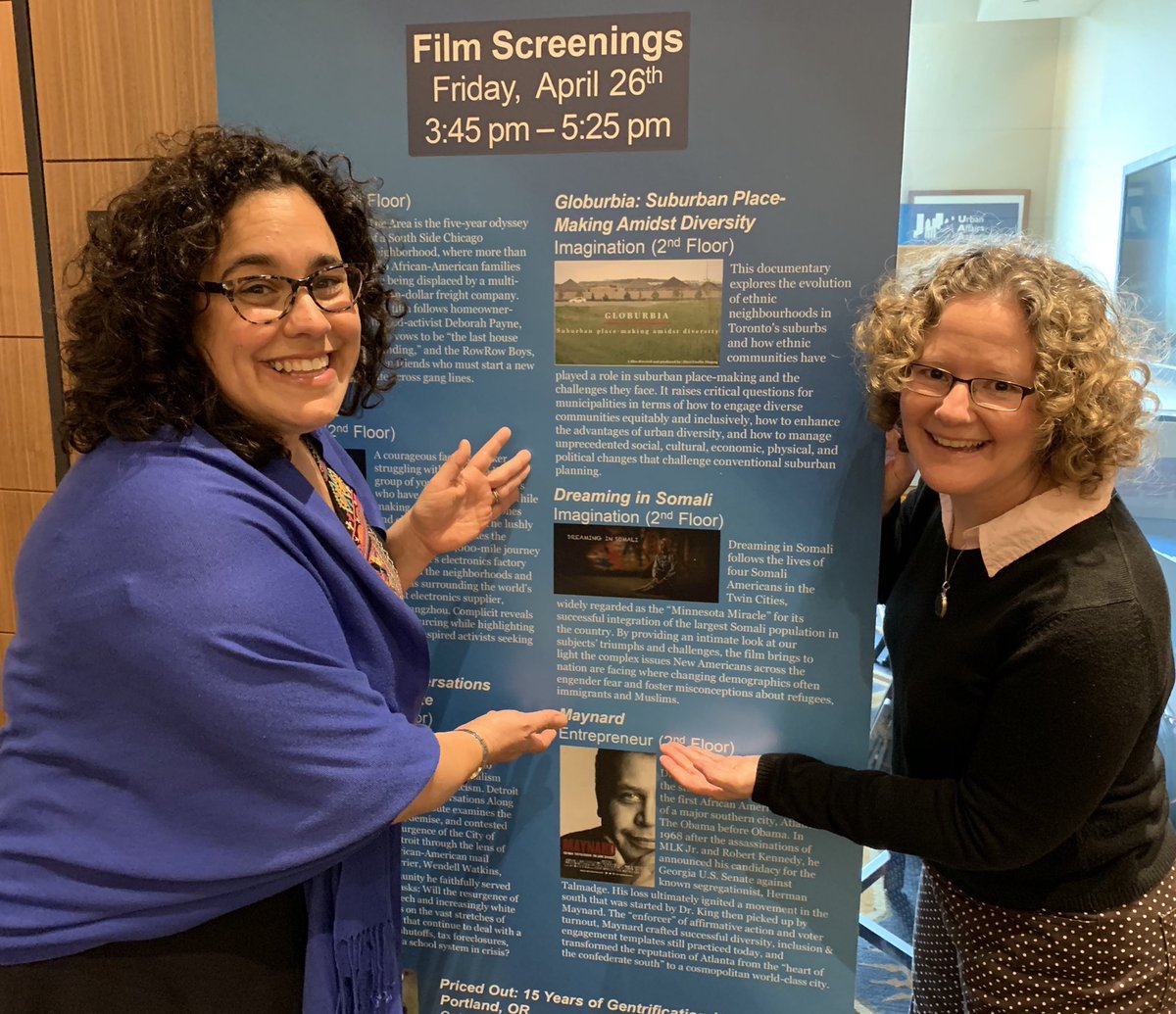 Stefanie Chambers is Professor of Political Science and Chair of the department at Trinity College in Hartford. Chambers's research interests include urban education, urban public policy, minority politics, and environmental justice. Betsy Kalin is an award-winning director, producer, and writer whose films include Vision 2030: Future of SoCal, East LA Interchange, Roof, Chained!, Click, and Hearts Cracked Open. In addition to working on Dreaming in Somali, Kalin is also developing Phoenix: The Life and Death of Alice Herz and teaching Social Impact Documentary as an adjunct professor at Saybrook University and Emerson College Los Angeles.
Featured Image (at top): Samatar Crossing and the Riverside Plaza Apartments. ©2020 Chris Chew/Itchy Bee Productions.
[1] This section draws from research conducted for Stefanie Chambers, Somalis in the Twin Cities and Columbus: Immigrant Incorporation in New Destinations (Philadelphia: Temple University Press, 2017).
---
Further Readings
Ali, Ihotu. "Staying Off the Bottom of the Melting Pot: Somali Refugees Respond to a Changing U.S. Immigration Climate." Bildhaan: An International Journal of Somali Studies 9, no.1, 2011.
Abdi, Cawo M. Elusive Jannah: The Somali Diaspora and a Borderless Muslim Identity. University of Minnesota Press, 2015.
Besteman, Catherine. Making Refuge: Somali Bantu Refugees and Lewiston, Maine. Duke University Press, 2016.
Besteman, Catherine and Lee Cassanelli. The Struggle for Land in Southern Somalia: The War Behind the War. Westview Press, 1996.
Bloemraad, Irene. Becoming a Citizen: Incorporating Immigrants and Refugees in the United States and Canada. University of California Press, 2006.
Cassanelli, Lee V. The Shaping of Somali Society: Reconstructing the History of a Pastoral People, 1600 to 1900. University of Pennsylvania Press, 1982.
Chambers, Stefanie and Laurel Elder. "Ilhan Omar: Breaking Barriers for Muslim, Somali American and Immigrant Women." Historic Firsts in US Elections: Gubernatorial, Congressional and Mayoral Campaigns, 2018-19. Evelyn Simien. Oxford, forthcoming.
Fennelly, Katherine, and Myron Orfield. "Impediments to the Integration of Immigrants: A Case Study in the Twin Cities." Twenty-First Century Gateways: Immigrant Incorporation in Suburban America (200-224), 2008.
Gaildon, Mahmood. The Yibir of Las Burgabo. Red Sea Press, 2005.
Horst, Cindy, Marta Bivand Erdal, Jørgen Carling, and Karin Afeef. "Private Money, Public Scrutiny? Contrasting Perspectives on Remittances." Global Networks 14, no. 4 (514-532), 2014.
Ibrahim, Huda. From Somalia to Snow: How Central Minnesota Became Home to Somalis. Beaver's Pond Press, 2017.
Roble, Abdi, and Doug Rutledge. The Somali Diaspora: A Journey Away. University of Minnesota Press, 2008.
Samatar, Ahmed I. "Beginning Again: From Refugee to Citizen." Bildhaan: An International Journal of Somali Studies 4, no. 1, 2008.
Samatar, Said S. Oral Poetry and Somali Nationalism: The Case of Sayyid Mahammad 'Abdille Hasan. Cambridge University Press, 1982.
Voyer, Andrea M. Strangers and Neighbors: Multiculturalism, Conflict and Community in America. Cambridge University Press, 2013.
Yusuf, Ahmed Ismail. Somalis in Minnesota. Minnesota Historical Society, 2012.