Cityscape is The Metropole's monthly shortcut to recent, forthcoming, or overlooked writing, exhibits and film.
---
The City in Print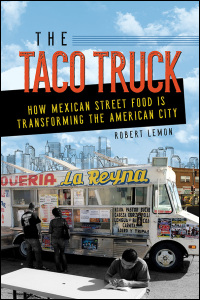 The Taco Truck: How Mexican Street Food is Transforming the American City
By Robert Lemon. University of Illinois Press, 2019.
When the food truck pulls up it may stir conflict, but it can enliven and transform city streets. Based on studies in the Bay Area, Sacramento, and Columbus, Ohio.
Liverpool Beyond The Brink: The Remaking of A Post Imperial City
By Michael Parkinson. Liverpool University Press, 2019.
What happens when a once-great port and industrial center loses shipping and industry? How can it recover?
Cities of Dragons and Elephants: Urbanization and Urban Development in China and India
Edited by Guanghua Wan and Ming Lu. Oxford University Press, 2019.
Over the past 30 years, a billion people in Asia have moved from farm to city. Two billion or more may follow. A monumental collection of essays on the world's greatest migration.
The New Noir: Race, Identity, and Diaspora in Black Suburbia
By Orly Clerge. University of California Press, 2019.
An ethnography of Black American, Jamaican, and Haitian families making their way into New York's outer boroughs and beyond.
The City on the Web
Without parking, thousands of Americans who live in vehicles have nowhere to go
By Graham Pruss. The Conversation, July 10, 2019.
A trained anthropologist, Pruss shows that the motor vehicle represents a form of affordable housing in expensive cities like Seattle. Fifty-three percent of people counted sleeping outside in Seattle are sleeping not in the street but in a car, school bus, truck or RV. Pruss calls on American cities to provide for the parking and sanitation needs of those living in vehicles.
The Jim Crow South? No, Long Island Today
By the Editorial Board. New York Times, November 21, 2019.
A half-century after the Fair Housing Act, housing discrimination remains prevalent on Long Island. Investigators discovered that black home buyers are shown only half as many houses as whites with similar financial profiles. The editorial calls for a crackdown on realtors who steer black home buyers away from white neighborhoods.
Celluloid City
Directed by Joseph Dorman and Toby Perl Freilich (2018)
The witty and talented Moynihan became a preeminent urban policy maker under Presidents Kennedy, Johnson, and, to the chagrin of some friends, Nixon. He was vilified for suggesting that lack of African American economic progress could be explained by the weakness of the matriarchal family. But in this celebratory documentary, Ta-Nehisi Coates (Between the World and Me) defends "The Negro Family: The Case For National Action"(1965), arguing that the notorious Moynihan report represented "the last point where you had a federal official making an argument for massive investment in African-American communities, massive benevolent investment, and tying that case for investment to history." As a four-term senator, Moynihan spearheaded legislation to advance historic preservation, auto safety, and mass transit.
Urban History in Museums
London Transport Museum, Covent Garden WC2E 7BB
October 2019–January 2021
The little-known, half-forgotten and hidden parts of the oldest underground transit system include a subterranean munitions factory where nearly 2,000 women toiled during World War II, bomb shelters that protected upwards of 100,000 Londoners from the Blitz, and abandoned stations such as Highgate, now a protected bat habitat.
Liberty Island, New York Harbor
Opened in May 2019, this new museum tells how and why the statue was built. It reminds us that Lady Liberty was inspired not so much by the nation's liberal immigration policies, but by the abolition of slavery in America. As such, this museum stands as a useful counter to the celebratory immigration story told at nearby Ellis Island.
Overlooked
By Harlan Paul Douglass. The Century Co., 1925.
In the first major study of American suburbanization, Douglass found suburban communities remarkably heterogeneous. He classified them as industrial, agricultural and residential and pointed out that while some were predominantly wealthy, others were quite poor. And only a fraction of suburban residents were commuting by rail to the central city; most found jobs closer to home. The Suburban Trend remains the essential corrective to studies depicting suburbia as essentially a bastion of privilege.
---
What's your take on Cityscape?
What are you reading, viewing or looking forward to? Do you want to write a review? Let us hear from you.
Jim Wunsch, Bob Carey, Eric M. Rhodes, and Jacob Bruggeman
---
Featured Image: Barton's plant, De Kalb Ave., Brooklyn, New York. Truck. Gottscho-Schleisner, Inc., September 18, 1949. Library of Congress Prints and Photographs Division.